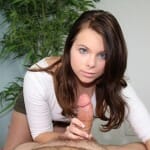 Your cock is Jennifer Bliss' favorite play toy which is why she's back again to play with it in this sensual massage and POV handjob video from ClubTug.com. This episode is all about you and catering to all your needs until you experience that release you so badly need so inhale and relax and let the gorgeous brunette work her magic on your big sized boner. She knows exactly where to press on your big cock and she isn't afraid to apply a bit of pressure if she needs to. One thing's for sure, you won't leave her table until your balls are empty.
Jennifer Bliss has a reputation of always getting straight to business so she doesn't waste your time once she walks into the spa room and finds you laying on her massage table. She grabs a tube of lube and squirts some on your big boner which she then rubs in with her hands. This teen brunette is in no particular hurry so she takes her sweet time pumping your cock until it hardens in her hands and then she wraps both her hands around the erect pecker and twists as fast as she can.
Always the naughty girl, she lifts up her white blouse and flaunts her perky tits in your face as she continues to jerk you off. You get super turned on as you watch her bouncy tits swaying side to side and rocking back and forth as she strokes your big, hard boner. The one hand jerking technique is what draws you closer to cumming but it's the two hand stroking that eventually makes you explode!